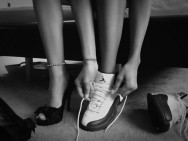 Hey sexc faces,
Abuk here, welcome to Heels and Hightops, to describe it as a fashion page would be a fib so I'm introducing it as a lifestyle page, although a lot of fashion bollocks will be thrown in just because it's something I pretend to know a lot about.
I can be a bit random so dontwatchthat lol, (I couldn't help myself) so expect random stuff on my channel.
Yeah I like this photo, found it on google, sums up my channel name so boy, I had to steal it init!
Abuk xx