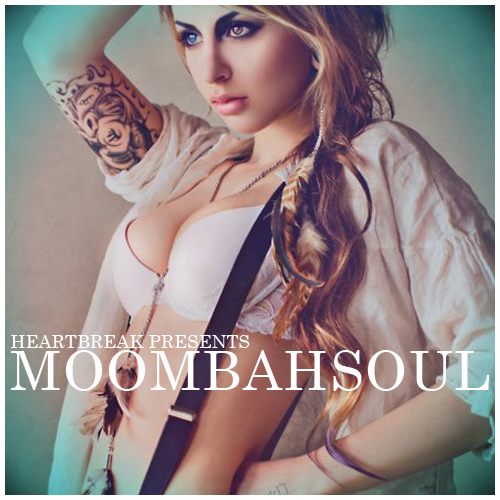 DOWNLOAD HEARTBREAK PRESENTS MOOMBAHSOUL
From Heartbreak himself:
As the summer approaches and the clubs heat up. This is the perfect time, for the part of moombahton that I love the most. The Moombahsoul sub genre, just has something special about it. This started off as as All HeartBreak project, but my fellow La Moombahtonistas, approached me and presented some very quality material… This is volume one to my HeartBreak presents moombahsoul series. Dale Moombahton!
——————-
It's time for dance music to love again. Moombahton is an intentionally sensual sound. In pitching down or pitching up a melody to the magical range of 108-112 BPM, you create a sonic viscosity that invites passionate emotion. Somewhere along the way, the edges of moombahton were swept into the realm of the fist pumping Jersey Shore inspired "bro core" movement where noise, wild pitch shifting and stark electro melodies reign supreme. However, what has keyed moombahton surging to the lead of progressive dance is something vastly different. Let's all finally be thankful for dance music neophyte producer David Heartbreak and and the unusually accessible melodies of moombahsoul, his visionary sea change that stands at the forefront of bringing peace to the frightening storm. In downloading his compilation Heartbreak presents Moombahsoul, prepare for the R & B inspired balance that hails traditional dance concepts' preservation in the face of dance music's most abnormal era.
In 15 tracks, ten talented men intend to inspire romantic passion. This is the literal soundtrack for the creation of the next generation of dance aficionados. This is sexual music, this is passionate music meant to inspire love. This is the music that makes the dance floor steam, this is the music that turns on the red lights, this is the music for the slow grind, the dark corner make out. This is the soundtrack for iconic moments that get stuck in your head as you remember why you love to dance, and why you love music. Love is a universal connective emotion, and is celebrated here in full.
David Heartbreak invented this genre in January with the release of his track "Shy Day," and improves upon it with standout work on the LL Cool J "Hey Lover" and Michael Jackson "Lady in My Life" flip "Mi Amor." The next level of moombahsoul is reached though on the heaviest of pop trending heavy hitters here, Heartbreak's flip of buzzed about soul performer The Weeknd's "Rolling Stone." The chopped wailing vocals and mellifluous combination of Bmore club breaks and plaintive melodies is a classic combination.
Every track here unfolds something new, and hits a particular emotional impulse. Jon Kwest is a moombahsoul star producer, his ability to isolate the most powerful sections of melodies of particular note. Phoenix power duo Pickster One and DJ Melo are twin old souls forged in drop top Cadillac funk, and create warm concoctions in that essence. Sonora and Cam Jus revel in making edits that amplify enormously lush productions to higher levels, and Rotterdam kingpin Munchi and DJ Theory dig into the connective fibers of tracks and walk impressively taking tracks down roads not traveled.
Once again, this is a must download compilation for all who appreciate dance music as mombahsoul proves that it is time to love again.
TRACKLISTING
1. Jon Kwest – Make It
2. Jon Kwest – Rainshine
3. Munchi – Me and My Bitch
4. DJ Melo & Jon Kwest – Ecstasy
5. Heartbreak – I Am Legend
6. Cam Jus – Ease The Pain
7. Sonora – Amor De Aaliyah
8. DJ Theory – Can't Get Enough
9. Sonora – Amor De Alicia
10. Munchi – Despair
11. Heartbreak – Style & Grace
12. Pickster & Riot Earp – Around
13. Pickster One feat. Kris Hill – Let's Stay Together
14. Heartbreak – Mi Amor
15. The Weekend – Rolling Stone (Heartbreak's remix)