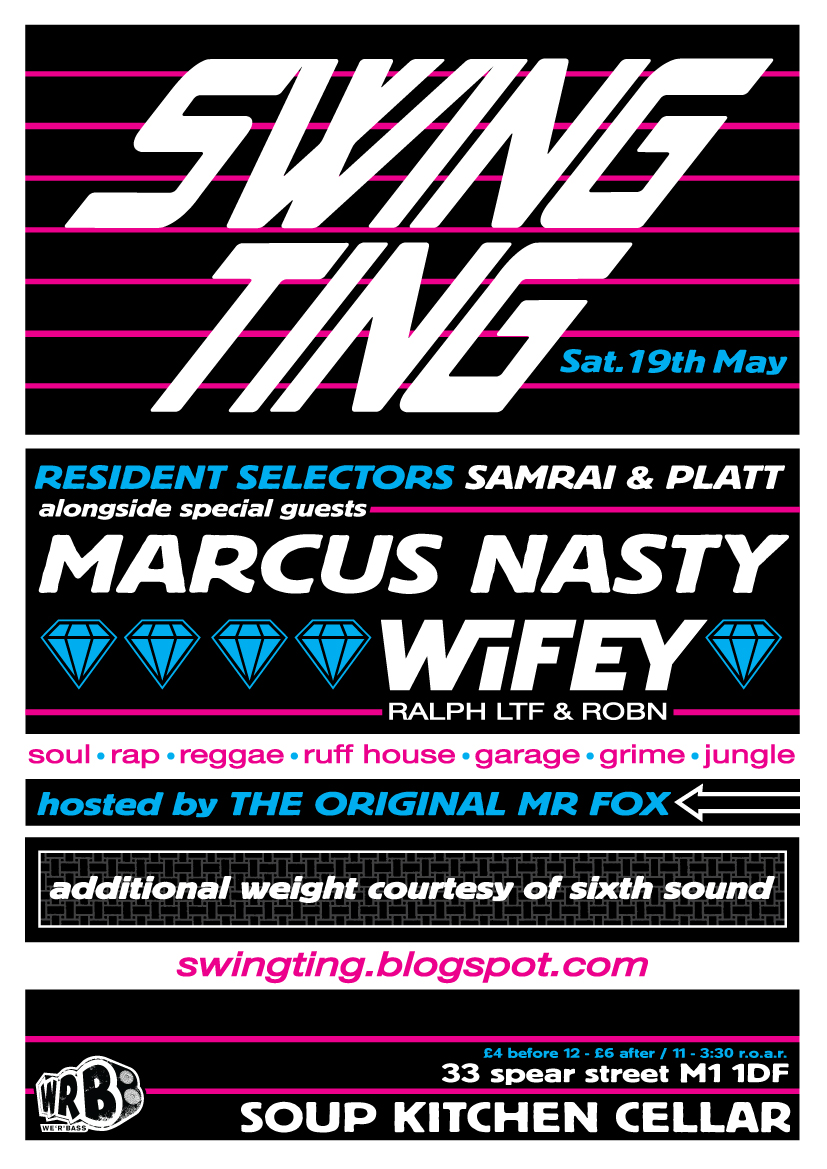 Swing Ting returns in May with the almighty MARCUS NASTY as the May headlining as well as support from the ruffest tuffest Wifey DJs, Swing Ting residents and standardly Fox pon mic!
I hope there's some people like this in the dance…."HE COMES DOWN HERE EVERY FUCKING DAY AND DRINKS AMARETTO SLUSHIES".
I'm coming up from London for a slice of this so you local heads have a big fat nada in the excuse department.
*SWING TING*
May Session
——————————————-
Special Guest Selectas:
MARCUS NASTY (Rinse FM/We R Bass)
WIFEY DJs:
Ralph LTF (UTTU)
Robn (Deja Vu FM)
… …
residents:
PLATT & SAMRAI (SWING TING)
Hosted by THE ORIGINAL MR FOX
——————————————-
SATURDAY 19th May 2012
Soup Kitchen Cellar
(31-33 Spear Street, Northern Quarter)
Manchester M1 1DF
Entry:
£4 before 12, £6 after
——————————————–
*extra weight courtesy of sixth sound*
Bobby Irish says: 'Flavours for all ravers'
——————————————–
SOUL. RAP. REGGAE. RUFF HOUSE. GARAGE. GRIME. JUNGLE
Thanks to all who reached last month's session with the one and only Mikey Don.
This month sees a special Swing Ting debut alongside a welcome return for some of our favourite selectors…
From his roots as DJ for Nasty Crew, MARCUS NASTY has become a pioneer for the UK Funky / House or the whatever-you-want-to-call-it movement releasing one of Rinse FM's rudest Mix CDs. He currently tears up the airwaves weekly on the station testing potential fire for his newly founded WE R BASS imprint…
He's joined by Ralph LTF and Robn aka WIFEY, the badboy London-based club and radio dons who make their second appearance at Swing Ting after destroying the Soup Kitchen dance back in August 2011… one for the raving crew!
Marcus Nasty Soundcloud: http://soundcloud.com/marcusnasty
Wifey Mixcloud: www.mixcloud.com/wifey/
Website: www.wifey-ldn.com
Twitter: https://twitter.com/marcusnasty
https://twitter.com/wifeyldn