OR HOW TO LOSE YOUR SHIT IN THE MOST UNDIGNIFIED WAY POSSIBLE WHILST THE WORLD IS WATCHING
Bless, its been a tough old few months for my muse Amanda Bynes. She upped sticks from Hollywood to New York City and everything went to shit.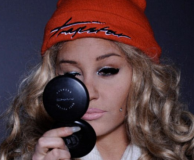 Soooo tumblr stripper babe 
Its almost that crazy I can't write about it, because it just feels like I'm stuck inside my own imagination and somebody just put me on a 60° spin with a bunch of neon duvets covered in lip liner and matted hair extensions.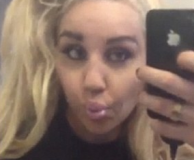 'I'm Sucking On A Sour Patch Kid Listening To Music Getting Ready For Tonight :D.'
THE ANTICS

– She turned up to an adult gymnastics class and sources say she was wearing 'fishnets and a leotard that looked like lingerie…Amanda just walked out on the mat, was spinning around in circles and mumbling to herself'.
– It all started with the driving charges, like it always does. Driving after booze pipes, driving and keffing of weed, driving on the wrong side of the road with a stripper in the back etc etc.
– Actual tweet: 'I want @Drake to murder my vagina.'
– She walked out of a cubicle and into the main reception of NYC tanning salon 'Beach Bum' completely naked…if in doubt, don't read the signs babe.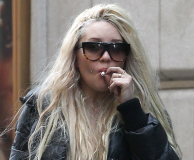 Smoking questionable cigarettes
– She spent two hours in the Little Cupcake Bake Shop toilets. Just chillin right, eating cakes.
– She got her cheeks pierced. So Hollywood yeah? So fashionable.
– She's shaved her head due to 'hair damage'. Britney's constantly on speed dial.
– She's fallen out with her parents. Macaulay!!!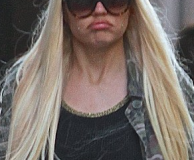 Life sucks y'all
I always remember an expression from Vice Magazine 'Do's & Don'ts' and it is so fitting for her behaviour…'tobogganing down moonbeams'. Always wondered what that would feel like. Probably that hyper real feeling you get after 5 shots of tequila, a doobie and some homemade acid bought from a Hells Angel drinking Mojitos in a bougie city bar. Hang on…
I know this isn't a classy subject, but its Friday and its Freaky and its me so what else did you expect? On a level though, its LiLo 2.0 and I'm not encouraging this madness. Real humans used as a vehicle for humiliation and entertainment? (Looks away disapprovingly)
On to the next one…