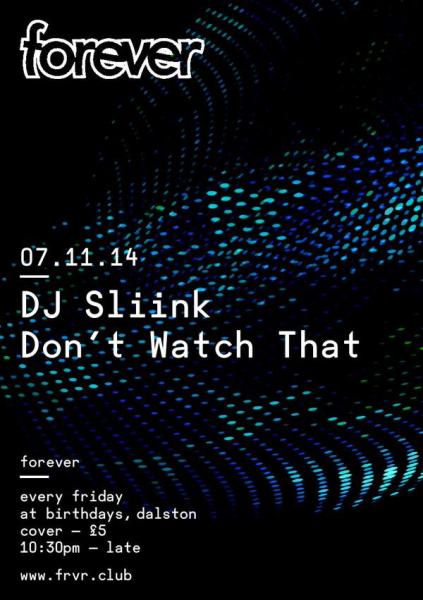 DJ Sliink has been at the forefront of a new sound creeping its way into the underground electronic scene. The sound I am talking about, is of course, the Jersey Club, or as it is sometimes called, the "Club" sound. Thankfully, it just so happens that in November I was playing as part of the Don't Watch That DJ's with Sliink himself. So I caught up with Sliink before his set to talk about what got him into producing, and what he thought about the current state of the scene.
So let's start off with where it started, when did you start producing?
Sliink: I started producing Jersey Club music back in 2006. My younger brother DJ Slim showed me how to use FL Studio, that's the first program I ever got exposed to. He showed me the basic stuff on how to use it. I was always a sports kind of dude but then I would see him on the program like every day asking, "What are you doing?" He was like, "Oh, I'm making beats." And then I asked him how to make beats, so he showed me. He already knew what Jersey Club music was, so he showed me the basic steps.
So what program do you use now? Do you still use FL Studio?
FL Studio and Sony Acid Pro.
I don't know why you guys all use Sony Acid Pro…
Sliink: [laughs] Yo, I don't know it's like a Jersey thing. I only know of like two other people outside of Jersey that use it. Rusko and Munchi. Munchi is a Moombahton producer, while Rusko makes Dubstep.
So what's the difference between Jersey Club and Brick City Music?

Newark is called Brick City. So at first, Tameil would call it (Jersey Club) Brick City Club Music. All of Newark is Brick City. That's our side name.
You're quite well known for your affinity with Trap. Is there a particular reason you decided to infuse your stuff with Trap?
Sliink. I went with the Trap stuff because I grew up on Jersey Club, but I also grew up on hip-hop. The Trap sound is influenced by Hip-Hop. Like the Dirty South kind of stuff, Atlanta shit. Being as I grew up on Hip-Hop, I would kind of incorporate that into my Jersey Club tracks. So for a minute I decided to just go with the like Trap/Hip-Hop stuff and it popped off.
Arghtee: We can definitely tell it's been working for you haha.
Sliink: It's kind of because I linked up with Flosstradamus during SXSW. He said he liked my shit and wanted to link up. So he sent me a demo, which was "Test Me." I got the vocals and everything and chopped it up like how I would for a Jersey Club track. And that song got kind of big.
A lot of genres fizzle out, after some success. How do you think we could sustain Jersey Club especially now since it is starting to get bigger and more attention?
Sliink: I think people are kind of scared of it getting rinsed out.
"Even though everybody is making Jersey Club, there's only a specific sound that you can find in Jersey that helped everyone grow to love Jersey Club. It's that raw, ghetto, urban sound"
What do you think about masked producers?

Sliink: I think it was catchy, but it's aggravating now. People are starting to reveal themselves now. But it's like if you really fuck with the genre and you respect it, why would you try to hide your face? Does that mean you're ashamed? I think it's more of a gimmick, but I can understand it.
What advice would you give to the guys in Jersey?

Sliink: Clean up their music a bit. Because most of the time if the track doesn't sound good in the club no one will play it. They don't know about mastering, mixing down, or leveling. If it sounds hard, they think it's the best song ever. They just need it mix it down the right way. They also need to (learn how to) market.
I'm trying to help as many people as I can, but there's a million people who produce in Jersey.
Sliink: Yeah that's what I'm trying to do right now. Get everyone in the same boat and share our knowledge. Show them that some people in Jersey are actually traveling the world and that they could do the same thing. Just pay attention and don't be hard headed.
Why do you think Jersey Club is blowing up?

Sliink: The reason that there's such a high demand for Jersey Club is because at one point Brick Bandits, we all kept that shit to ourselves. We were the only ones producing it. Nobody outside of Jersey was getting tracks. So I think people started thinking well if I can't get tracks, I'm just gonna start producing them.
So where do you think the Jersey Club sound is going? I love the heartbeat of the kick pattern, but sometimes it gets old.
Sliink: That's what Nadus and I are trying to do, reinvent the sound. Like his EP, people wouldn't label it as Jersey Club. But the elements in it were Jersey Club.
What elements are you talking about?

Sliink: Just like the vocal chops and the patterns, but it was more musical. People don't do musical shit in Jersey like that. Guys outside of Jersey do musical shit, but I haven't heard an EP like Nadus' Ep.
Arghtee: So what do you have coming out?
Sliink: I was going to release a big ass album, but for now I'm just going to release singles for a minute because I feel like a lot of great music gets lost in an EP. Because everybody finds one track that they like and just run with that track. So I'd rather just release a single and either they will like it or not like it. But I don't wanna release 4 or 5 songs on a project that I put my everything in to. SO I'm just going to put singles out on different labels. But then when they're fully paying attention, that's when I'm gonna knock em' upside the head.
Arghtee: I think that could work though. Because if you have a track that's got a specific sound and a certain label could push it. Good luck with it!

Interview & further words by Arghtee and Travis Wagner
Follow DJ Sliink\
Follow arghtee
Follow CLUBJERSEY on SOUNDCLOUD & TWITTER