DON'T MIX THAT VOL 58: MOUNA DJ B2B APS (TORQUE DJS) by Don't Watch That on Mixcloud
Torque is a club night collective, made up of three down to earth London lads (two from East, one from West) who have been DJing, producing and immersed in the club scene for a good few years. They started Torque as a way to utilise their experiences and knowledge of going out to create the perfect end product, something we all know is few and far between…a decent club night.
Gearing up to Torque 001 next Friday 24th April at Hoxton Basement, residents Mouna DJ & APS have put together a cheeky lil Don't Mix That for us in anticipation of the night, which will feature a heavyweight two and half hour Bruce b2b Chubba set alongside Akito, Riz La Teef and the residents.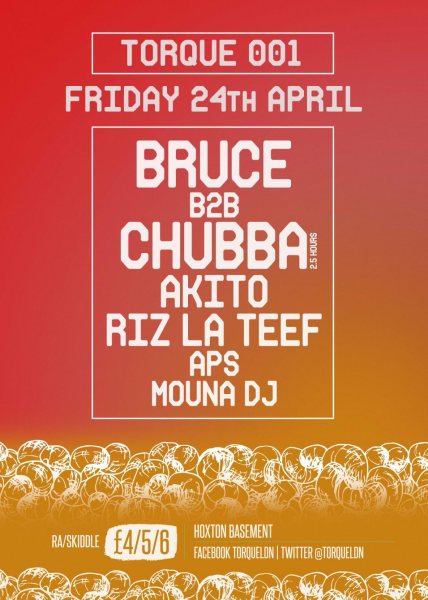 Tell us more about Torque…
Torque is something we're trying to make happen.
We want to try and recreate some of the experiences we were, and still are, lucky enough to have in London's clubs. We're all obsessed with music and its relationship with London's clubs, and feel passionately about the importance of really great club nights, places like Plastic People (RIP).
Plus it allows us to play in clubs we'd never normally get a chance to.
How do you plan to make it a great night for guests?
Our plan is to bring together the best of everything. The good thing about having a few people involved is that everyone's got a different favorite artist, or sound. Like Mouna DJ will always be on involving Grime, Garage, Dubstep all these crucial strands of London's sound. Then the two members of APS bring a more Techno sound, more international, Berlin or Detroit sounds, as well as straight up stompers from the UK.
What's the mix all about?
We just wanted to play a few different genres, try and show a little bit of the kind of variety and plurality we want our night to be. Having a diverse sound has been and will be key for us, but always focused on making people dance.
Who's your musical hero?
APS: St Germain
Mouna DJ: Wiley, straight up and down, I know that statue in Bow is gonna be a goer soon.
Don't forget to catch Mouna DJ and APS at Torque001 on Friday 24th April.